Teach you the correct way to handle acne!
---
Teach you the correct way to squeeze acne!
IPL SHR Acne removal machine
Many friends with oily skin are easily troubled by acne. If you have acne, many people are used to dealing with it by themselves. In the process of squeezing acne, we must have the concept of "sterility", and strictly disinfect every link to avoid infection. Many little friends may not take it seriously and think it is not so exaggerated. They usually squeeze with their hands at will, and there is no problem. There is a certain reason for this idea. Human beings have considerable resistance to bacteria in the external environment. In most cases, there is no problem. However, it does not mean that you will not be infected, so you should be careful to deal with acne.
If you want to know more about beauty, you can pay attention to our products. Our company has 20 years of production and export experience and is trustworthy! If you are interested in our products, you can leave us a message and leave your personal contact information. We will have professional teachers to connect with you
Three stages of acne:
Generally, acne can be divided into three stages: acne growth stage - Acne mature stage - Acne stable stage. It is necessary to distinguish different states of acne. When the acne mature stage and stable stage are reached, it can be squeezed. Do not squeeze acne during the growth stage.
Acne growth stage:
Acne often presents an abscess shape, which is painful when touched lightly. Do not squeeze acne at this time.
Acne mature stage:
The pimples in this period have faded away from the pustule like pain, and the pustules have healed. They will not be treated for the time being.
Acne stable stage:
At this time, acne has completely changed from abscess to acne, or blackhead, which can be extruded.
Professional beauticians teach you how to squeeze acne?
First, clean the facial mask with cleansing products, then choose a clean environment, disinfect the acne needle with iodine or alcohol, disinfect the acne area with alcohol cotton dipped in iodine or alcohol, and then take the acne needle to poke several holes on the top of the acne purulent, only the white part, with gentle action, not too deep.
Wear medical rubber gloves or finger cots. If they are not available, they must be disinfected with iodine or alcohol in advance to avoid infection. Then gently knead from the periphery of the acne (not at the root of the acne), press and squeeze out the abscess. The force must be gentle and slow to avoid internal rupture and inflammation. Too much force will easily lead to a large number of rupture of subcutaneous blood vessels, leaving pockmarks and bruises.
When the extrudate turns into transparent tissue fluid or directly into blood, stop extrusion; Disinfect with iodine or alcohol; Do not touch it with your hands. Dry it naturally.
Professional beauticians teach you where acne should not be squeezed
When squeezing acne at home, we should also pay attention to these matters: the "triangle" of the face should not be forced to squeeze acne. In our face, there are two triangle areas, one between the eyebrows and the corners of the mouth, and the other between the eyebrows and the tip of the nose.
---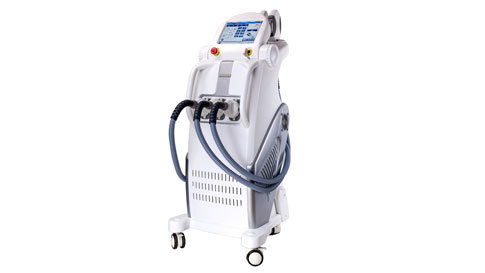 Medical Intense pulsed light Therapy Systems MED-140C+
CONTACT NOW