808 laser hair removal instrument - efficacy principle operation tutorial postoperative nursing
---
Treatment principle:
The principle of 808 semiconductor laser hair removal treatment instrument is based on the theory of selective photothermal action. By reasonably adjusting the laser wavelength, energy and pulse width, the laser can pass through the surface of the skin to reach the root follicle of the hair. Hair follicles and hair stems are rich in melanin, which is distributed between the cells of the hair ball matrix and can be transferred to the structure of the hair stem. The laser can target melanin. After absorbing the energy of the laser, the temperature of melanin rises sharply, resulting in the destruction of the surrounding hair follicle tissue, removing the hair, and achieving the effect of hair removal.
Definition: semiconductor freezing point hair removal instrument is mainly used to irradiate blood with low-intensity laser, which can trigger a series of biochemical reactions in human body, improve and restore the physiological function of blood through activating and calming blood, so as to achieve hair removal. It also belongs to the instrument of laser hair removal series. At present, there are many brands of semiconductor freezing point therapeutic instruments in the market. In 2012, a more modern hair removal instrument named semiconductor freezing point hair removal instrument was developed and put into the market. Principle the semiconductor freezing point hair removal instrument adopts a wavelength of 808nm, and the effective penetration depth of this wavelength can reach the target tissue (dermal papilla). The appropriate pulse duration ensures that the target tissue produces sufficient thermal damage and the surrounding tissue is hardly affected; An appropriate amount of energy density ensures that the energy output is strong enough to damage the target tissue in an appropriate time, while the normal tissue is almost unaffected; Appropriate epidermal protection measures ensure sufficient damage to the target tissue, while the epidermis is hardly affected, so as to ensure the safety of treatment. While meeting the above design requirements, the multi pulse laser specially designed by the semiconductor hair removal laser series heats the hair follicle to 48 ℃ in the mode of low energy density and maintains it for a period of time (10Hz state) through the sliding of the treatment hand. The hair follicle and growth stem cells lose their growth activity, so as to achieve the purpose of permanent hair removal.
Product advantages semiconductor freezing point unhairing instrument has five advantages compared with other peer instruments: 1. High cost performance, desktop semiconductor freezing point painless unhairing equipment with microchannel technology with the lowest cost performance in the world. 2. Convenient maintenance the most convenient desktop semiconductor freezing point painless hair removal equipment with microchannel technology in the world. 3. The desktop semiconductor freezing painless hair removal device with small volume and powerful microchannel technology is more suitable for transportation and carrying (mobile medicine). 4. Extremely high electro-optical conversion rate. The desktop semiconductor freezing point painless hair removal with microchannel technology with extremely high global electro-optical conversion efficiency. 5. Long life laser type: semiconductor laser laser wavelength: 810nm energy density: 1-120j/cm2 laser output power: 270W pulse width: 10-850ms working frequency: 1-10hz spot size: 12 × 12mm output mode: pulse emission technical parameters laser type: semiconductor laser laser wavelength: 810nm energy density: 1-120j/cm2 laser output power: 270W pulse width: 10-850ms working frequency: 1-10hz spot size: 12 × 12mm output mode: pulse emission advantages: ◆ 10.4-inch touch screen, really easy to operate! ◆ unique 10 safety self-test technologies, truly super safe! ◆ more than 30 schemes for 6 parts of 5 types of skin! There are many real choices! ◆ 5mm effective penetration depth, really catch hirsutism! ◆ 808nm good wavelength semiconductor laser hair removal technology, the real "gold standard for hair removal"! ◆ large light spot design, optional high-frequency light, fast sliding depilation, real fast depilation! ◆ the time of laser pulse is adjusted too long to protect the epidermis and remove hair of different thickness at the same time.
Contraindications to treatment
(1) Those who receive hormone therapy or potential endocrine abnormalities should not be treated with depilation temporarily;
(2) People with obvious skin infection should not depilate;
(3) Patients with a history of repeated Staphylococcus aureus infection and herpes simplex virus infection should not be treated;
(4) The treatment of patients with keloid or hypertrophic scar should not be too active;
(5) Psoriasis patients should inform patients that Koebner and others may appear after treatment;
(6) Patients with a history of sunburn will cause a transient reduction of pigment at the treatment site after surgery, so they should be informed in advance;
(7) Patients with tattoos at the depilation site should not be treated;
(8) Patients with high expectations should be treated carefully.
Treatment skills
① Keep asking the patient's feelings. Tingling is necessary, but it is necessary to prevent over treatment;
② Light or partial overlap of light spots is allowed during treatment;
③ It is recommended to use the maximum light spot and tolerable energy density (postoperative adverse reactions must be avoided) to achieve the best treatment effect;
④ Sometimes a moderate energy density can be used to repeat the operation, which can also achieve the desired effect while reducing the pain of patients.
Postoperative care
1. Postoperative reaction: residual hair in the treatment area after treatment can be pulled out 24 hours later. It can also fall off by itself after a few days (7-14 days). Very few people may have temporary pigment changes after treatment, which do not need treatment, and can be repaired by themselves in 3-6 months. Please pay attention to sun protection during treatment, especially when you go out after treatment, avoid direct sunlight, and the sun protection factor should be more than 30 times, and avoid photosensitive food.
2. Micro processing: after depilation, the hair root will naturally drain out of the skin due to hair follicle injury and death. At this time, you can assist the hair and gently pull it out with depilatory tweezers. If the hair root is dead, there is generally no pain when pulling it out.
3. Cleaning: after the operation, the treatment area should be cleaned with cold and warm water, and excessive activities such as exposure, sauna and massage are not allowed within a week.
4. Cold compress: after treatment, there will be a slight burning sensation at the treatment site, and there will be blackening and zooming of hair or light erythema of the skin around the hair follicle (traditional mode), which is a normal reaction. If necessary, local ice compress for 10-15 minutes can be done to alleviate or eliminate the erythema.
5. Adhere to treatment: hair removal requires a full course of treatment to achieve satisfactory results. Semiconductor laser hair removal is required every 3 to 6 weeks (the interval is determined according to different hair removal parts). There are three hair growth cycles: growth period, rest period and regression period. Depilation is effective only in the growth period, and the hair growth cycle of different parts of the human body will be different. Experts will formulate targeted and effective treatment plans according to everyone's hair growth, density and different parts.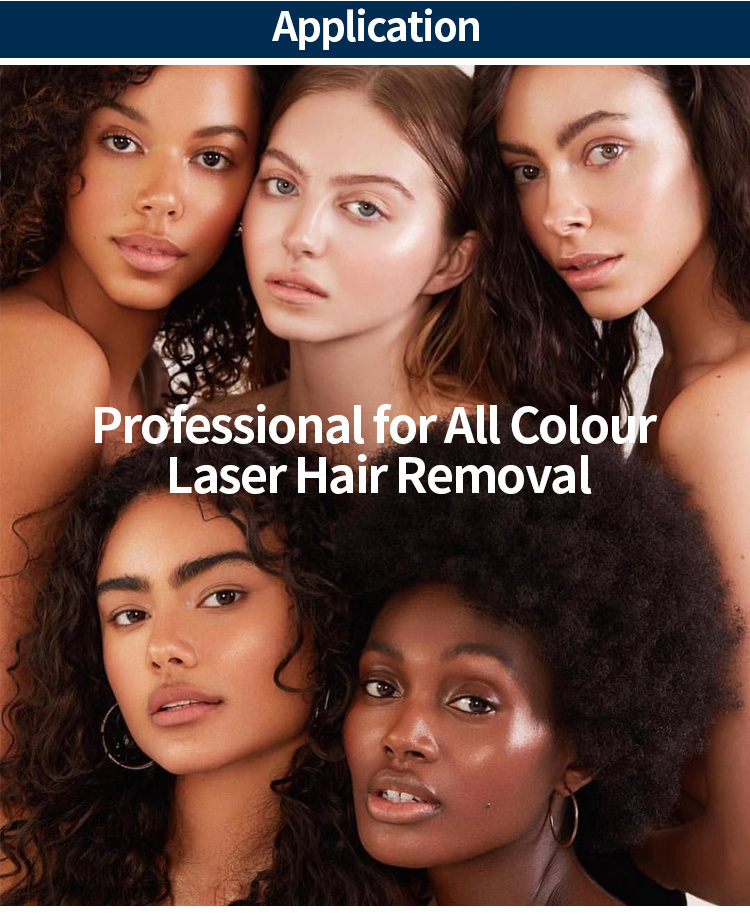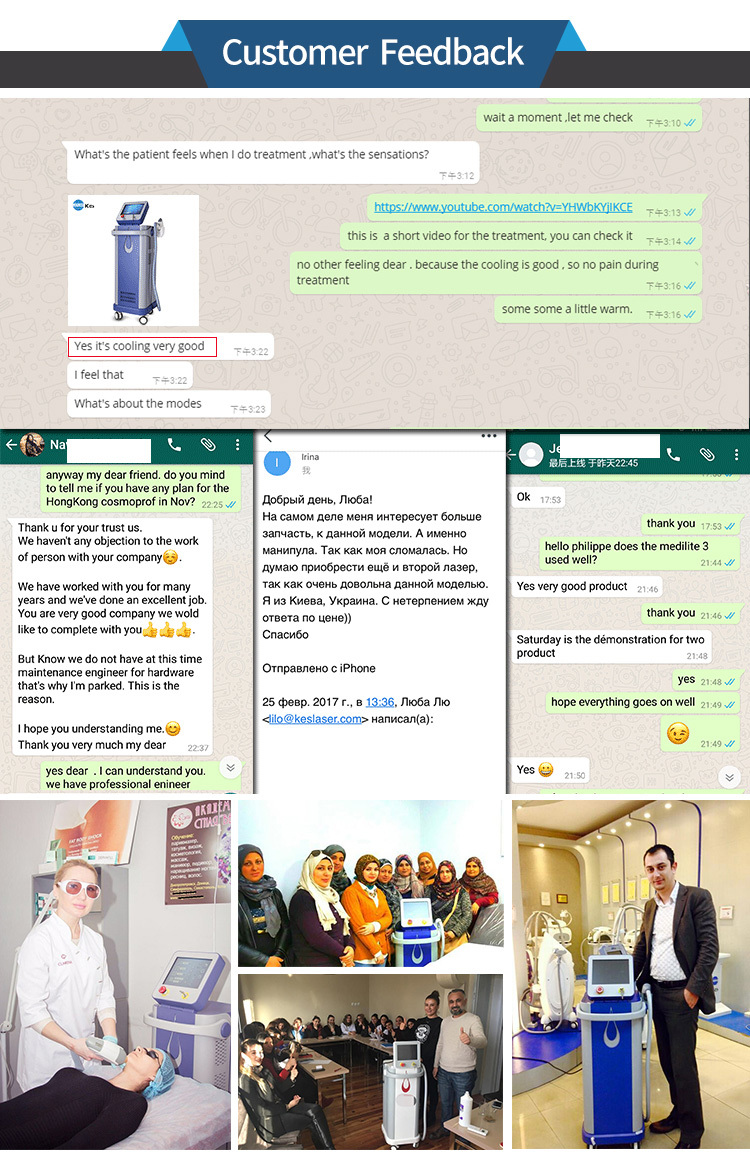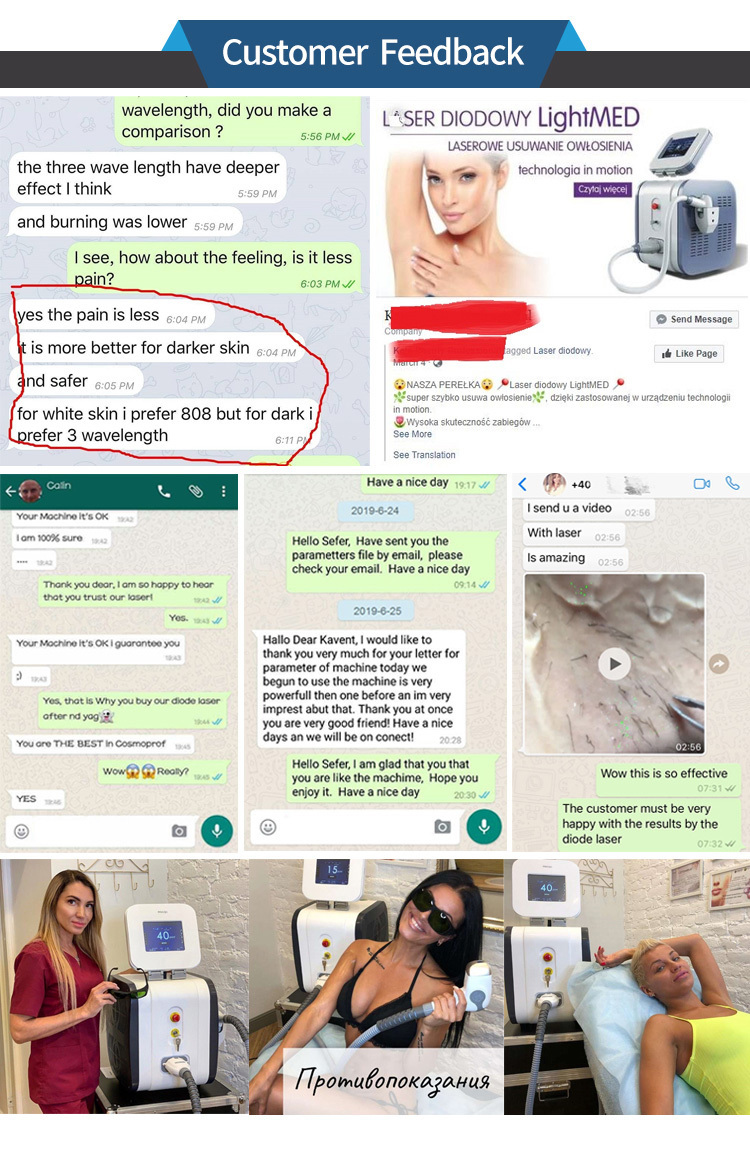 ---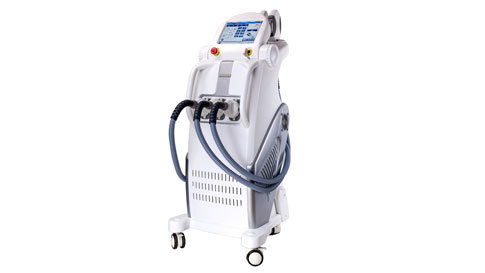 Medical Intense pulsed light Therapy Systems MED-140C+
CONTACT NOW