What is the reason cryolipolysis
---
Women who love slimming figures want to have a slim body, because having such a body will make the overall image more outstanding. But in life, there are many people
Because we often eat some greasy food, the body fat accumulates more, which will affect the overall body shape, so many beauty lovers have to improve through surgery.
But what is the principle of freezing fat dissolving.
The principle of freezing fat dissolving is to make the temperature of skin tissue drop to minus five degrees, and the fat cells will age and die in advance, so as to be discharged from the body. Frozen solution
Fat is also called frozen fat surgery. The frozen fat dissolving instrument is placed on the skin part that needs to lose weight, and the fat can be cooled quickly
Fat cell death, with the metabolism excretion, can eliminate the local fat.
Before the operation, some communication is needed to understand the relevant matters of the operation, so as to avoid the occurrence of adverse conditions and make the operation more convenient
Safety. After the operation, it is necessary to avoid eating high calorie food, so as to better maintain the body and avoid rebound. female
In order to make the body healthier, the beauty lover needs to avoid the operation during the physiological period, because the coagulation function will decline at this time. If the operation is forcibly performed.
The operation will cause bleeding.
From the above knowledge, it can be seen that the effect of freezing fat dissolving is very good, but the requirements for doctors are relatively high. In addition, In order to avoid indiscriminate charges, we try to choose regular hospitals to carry out the operation. The prices of such hospitals are usually marked clearly, it can give a corresponding operation price according to the obesity of beauty lovers and the selected liposuction methods and equipment, and it can also reduce the wind The risk of occurrence can also ensure the safety of the operation.
The principle of frozen weight loss is to use the equipment to accurately control the freezing energy, and then reach the fat accumulation site to kill the fat cells, and then be discharged to the body with its own metabolic rate.
Cryolypolisis weight loss is a common way to lose weight now, and it is fast and effective. However, it must be done by a professional doctor during operation, otherwise it may cause certain damage to the surface. Frozen weight loss is also a fast way. This instrument may change the temperature under the body to a low temperature state, and it can gradually reduce the cells in the corresponding parts, and also promote its own metabolism, With the metabolism, some excess fat is discharged to the body. Professional doctors must be allowed to operate the frozen diet., In order to reduce the rebound in the later stage, we should also control the diet, and do not overeat.
---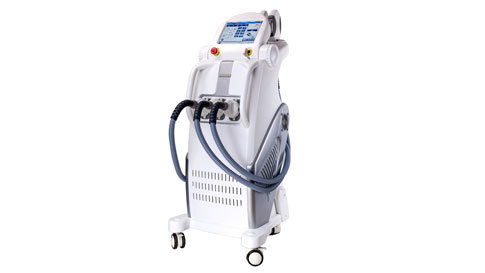 Medical Intense pulsed light Therapy Systems MED-140C+
CONTACT NOW